Friday, March 22, 2013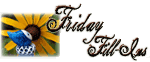 Questions courtesy of my lovely
cousin
, who is recovering this week from surgery to remove cancer on her nose...I'm sure she'd love it if you stopped by to say hello and wish her well!
And...here we go!
1. The wind blew wildly and
I don't mind because it has been warm the whole day
.
2.
Sun
and
Sand from our weekend in Imperial Palace
made me feel warm and happy all over.
3. The smell of
sunblock lotion
makes me think of
my fave season: SUMMER
.
4. When I am feeling lazy I
stay in bed and play games on my phone
.
5. Brilliant
aquamarine
is my favorite color.
6. The door creaked and a
cat
came in.
7. And as for the weekend, tonight I'm looking forward to resting
, tomorrow my plans include
Joshua's Recognition Day (2nd honors!!!) I am so proud since he was accelerated to most of the Grade 1 students are a year older but he still excelled
and Sunday, I want to
hear mass, thank God for the blessing and rest
!